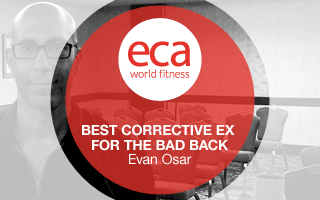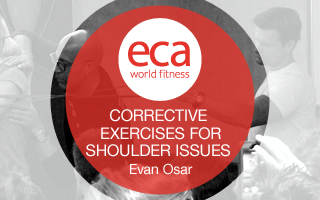 Corrective Exercise Strategies for Common Shoulder Condition
Shoulder pain and tightness are common complaints with many of our clients, limiting both their ability to exercise and live the quality of life they desire. This session will describe common shoulder injuries including impingement syndromes, rotator cuff dysfunction, and scapular control issues that lead directly to many of our client's problems. While these problems seem varied in nature, they share one thing in common - poor scapular stability. During this video, the fitness professional will discover the primary cause of poor shoulder stability and the corrective strategies required to improve their client's scapular control. Additionally, the will discover how to teach proper shoulder exercises so that they can help their clients accomplish their health and fitness goals.
Anatomy
::
ECA World Fitness
Instructor:
Evan Osar
Leaders CEU's:
1.00
Continuing Education Credits
:
Leaders in Fitness - 1.00 | National Strength and Conditioning Association - 0.20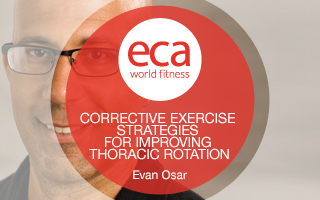 Corrective Exercise Strategies for Improving Thoracic Rotation
If you want to help your client improve their golf or tennis game you must improve their thoracic rotation. If you want to improve your athlete's performance whether they play baseball, lacrosse, or soccer, you must improve their ability to rotate their thorax. If you want to help clients walk, move, and live life with greater ease and less discomfort, you must improve their thoracic rotation. In this interactive session, you will discover the reason why so many individuals lose rotation and how by understanding and applying the principles of the Integrative Movement System´┐½ you can improve your client's thoracic rotation. You won't think the same about thoracic rotation after this session.
Fitness
::
ECA World Fitness
Instructor:
Evan Osar
Leaders CEU's:
1.00
Continuing Education Credits
:
Leaders in Fitness - 1.00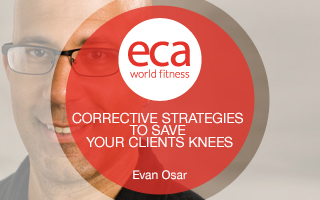 Corrective Exercises to Save Your Clients Knees
If you work with the baby boomer and senior populations you understand that knee pain is one of the most common orthopedic issues keeping individuals from walking, biking, and/or performing daily activities. The fitness professional can be instrumental in helping these individuals to discover solutions to improving their knee function while helping them progress towards achieving their goals. During this session, you will learn why your clients develop knee issues and discover a corrective exercise strategy to improve your client's stabilization and movement patterns.
Fitness
::
ECA World Fitness
Instructor:
Evan Osar
Leaders CEU's:
1.00
Continuing Education Credits
:
Leaders in Fitness - 1.00