Functional Training has become a buzz term in the fitness industry, but the fact of the matter is a lot of this training is doing very little for real life "function." Twist Conditioning is an industry leader in athletic strength and conditioning and they are taking their training methods and applying them to helping individuals regain their function. The Twist Foundations titles are going to revolutionize you're definition of, "functional training" and take you and your clients to a whole new level of fitness! The world around us requires a unified body communicating as one functional unit. We must be linked toe-to-finger, with every link in the chain functioning smoothly to keep us connected. This workshop focuses on teaching how to challenge and progress Unified Balance and Linked Strength safely so you can take back your life! Let world renowned strength and conditioning coach Peter Twist help you regain your function and expand your world so you can say "YES" to every opportunity that comes your way!
Credits for ACE, IDEA, NASM, CanFitPro and SCW COMING SOON!

Instructor: Peter Twist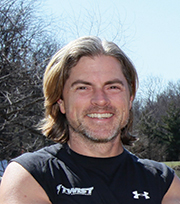 Peter is the President and CEO of Twist Sport Conditioning. An exercise physiologist with a Masters in Coaching Science, he coached full-time in the NHL for 11 years and along with his own camps and consulting in several countries has worked with over 700 professional athletes including four major league MVP's from three sports. Twist also consults international sport governments to bring current their coach education and athlete development programs. Corporately, Twist Sport Conditioning operates eight Sport Conditioning Centers in four countries, where all ages and abilities engage in athlete training. TSC also delivers licensed group training for health and avails how-to-train resources via their digital platform. Twist has also authored several certifications on sport conditioning and functional training for many brands. A passionate educator, Peter Twist has published over 500 papers, 14 books, and 24 DVDs on athlete development. A gifted and compelling speaker, he was honored with the 2001 National Strength and Conditioning Association's President's Award, the 2003 CanFitPro Specialty Presenter of the Year, the 2010 IDEA Program Director of the Year, CanFitPro's 2012 Canadian Presenter of the Year, and the 2013 IDEA World Fitness Inspiration award. Twist lives with his daughters Zoe and Mackenzie in North Vancouver British Columbia making the rainforest and mountains his home and his preferred environment for sport and recreation.
---