An explosion of martial arts katas are fused with intensive cardio and body weight exercises make this work out one you won't soon forget. Different styles of Martial arts will influence this workout and bring your from one place to another while challenging and channeling the inner ninja inside you.

Instructor: Joëlle Menard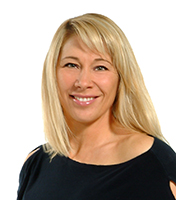 Joëlle has been a sought after International fitness presenter since 1993. She has been nominated numerous times by ECA Global in 2010 for "Best New mover and shaker," in 2011 for "Best International presenter" and then again in 2012 for "Best new mover and Shaker." Joëlle has been a leader in the fitness industry for over 25 years, this former Canadian Aerobic Champion and World Aerobic competitor, holds a total of 3 medals. She is also Head Canadian Master Gymstick Trainer, in charge of all education and program development for Gymstick in Canada; she is part of the World International Gymstick team as well as being part of the Canadian Bender Method Master training team. Joëlle is featured is 3 fitness DVD's that are sold worldwide. Joëlle is a registered naturopath.
---