One of the best benefits of Pilates exercise is its ability to improve body awareness and coordination. Joseph Pilates professed, "Practice makes perfect" and that is exactly what his method does. Every movement is detailed and re-enforces healthy movement patterns for life. In this workshop you will experience how practicing healthy movement through Pilate exercises can enhance the ability of your clients to do anything from household chores to sports.

Instructor: Ariel Hernandez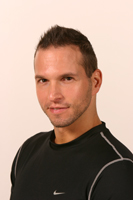 Ariel is the owner and director of Fusion Fitness USA Pilates. Born in South Miami Beach, Florida Ariel has been in the fitness industry for over 25 years. As soon as he was old enough, Ariel became a personal trainer and within 2 years he was running the personal training and aerobic dance programs of several gyms in Miami. With experience in dance and gymnastics and over 10 years tenure as a PHI Master Pilates Teacher, Ariel has expanded his certifications and training methods to include all forms of corrective modalities. Ariel is a PMA certified Pilates Teacher.
---