Most men love sports, which require strength, flexibility, stability and balance. So why aren't more men flocking to Pilates studios? Do they acquaint Pilates with ballet or do they consider it too feminine? In this workshop you will learn how to communicate the significant benefits of the Pilates method for men. After all, Pilates was created by a man for men! Leave with workout ideas to challenge the men in your classes and keep them coming back.

Instructor: Ariel Hernandez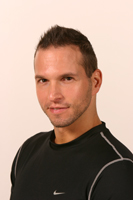 Ariel is the owner and director of Fusion Fitness USA Pilates. Born in South Miami Beach, Florida Ariel has been in the fitness industry for over 25 years. As soon as he was old enough, Ariel became a personal trainer and within 2 years he was running the personal training and aerobic dance programs of several gyms in Miami. With experience in dance and gymnastics and over 10 years tenure as a PHI Master Pilates Teacher, Ariel has expanded his certifications and training methods to include all forms of corrective modalities. Ariel is a PMA certified Pilates Teacher.
---