Plyo Pilates is a unique blend of exercises that fuses Pilates, yoga, martial arts, dance and athleticism into one powerful and inspiring mat class. Plyometrics are introduced within the workout to increase the intensity, calories burned, and to train the body to be explosive and powerful in its movements. All levels of fitness can experience this dynamic workout at various intensity levels. This dynamic workout contains all aspects of fitness to produce outstanding results.

Instructor: Maria Sollon Scally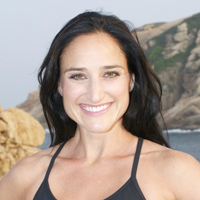 Maria Sollon Scally MS, CSCS holds a Masters Degree in Performance Enhancement/ Injury Prevention and Kinesiology. She has obtained numerous certifications in various areas of fitness and is a national conference presenter. Maria specializes in Pilates, Performance Coaching, and Corrective Exercise Techniques and Kettlebells. She is the creator of the Plyo Pilates Method and has developed a series of amazing workout DVDs. She is a Master Trainer for Total Gym, Resist-a-Ball, Body Blade, Peak Pilates, Kettle Bell Concepts and is a free lance writer for Fitness accredited magazines, news letters, and fitness blog sites. Maria demonstrates her knowledge each day and uses her dynamic creativity throughout her specialized line of work.
---