Learn the benefits of this revolutionary yoga method that combines all 5 elements of fitness that professionals recommend: flexibility, strength training, balance training, aerobic fitness, and core exercise. You'll also learn how to stand out from the crowd of fitness professionals by getting certified to teach.

Instructor: Danielle Diamond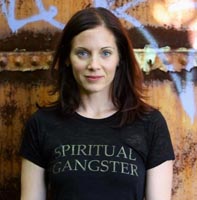 Danielle Diamond is the founder of Xen Strength Yoga with Weights, and the author of the forthcoming book, The Happiness Zone, with Dr. Barry Sears. She's been practicing and teaching yoga for over 15 years, and as a result, she is in the best shape of her life-physically and mentally. Yoga has taught her not only the value of compassion and contentment, truth and service, but at the end of the day being okay with each moment and what it holds. She is beyond grateful to share that with her students. Danielle's appeared on the Today Show, and Dr. Oz, and in Bobbi Brown's Pretty Powerful campaign. She has been featured in Self and Anna magazine. Her videos are available on YogaVibes, YogaDownload, and her site, Xenstrength.com.
---