With special focus on the abs, back and butt, this beyond-the-basics, small weight-less ball only training session will show how to teach to optimize strength and posture. Use Pilates principles and traditional terminology to cue corrections and modifications as needed to train the most important muscles in the body. As an instructor, you will see all sorts of wild interpretations when teaching in a group setting. Discuss teaching and communication skills necessary to get through to every single person in the room.

Instructor: Abbie Appel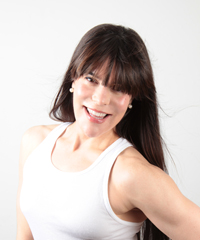 Abbie Appel is an award-winning fitness educator with over 2 decades of experience in the industry. She has worked and consulted with several companies throughout her career including, SPRI, TRX, Body Bar, Reebok, Resist-A-Ball and Pilates Institute of America. Most recently Abbie was voted ECA's Best All-Around Female Presenter of 2013 and Canfitpro's Best New Presenter of 2012. She has contributed material to fitness publications such as Prevention, Self, Shape and Muscle and Fitness, hers. She has produced and starred in numerous fitness videos including her most recent Core Amour and Bodyweight Burn. Abbie can be seen presenting workshops with organizations such as DCAC, ECA, IDEA, IHRSA and SCW.
---