The focus of this workshop will be on the Tower Class format and progressions, so that all of your classes are safe, effective, and fun! Together we will learn/play with creative ways to organize your progressions while maintaining the flow of the workout. We will cover all levels; Introductions to Advanced progressions. Come with questions and be prepared to move.

Instructor: Juan Estrada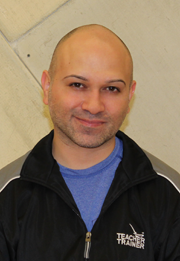 Juan Estrada received his first classical Pilates certification under the direction of Angela Clifford (Body Balance Chicago) in October, 2000. Juan graduated from Columbia College Chicago with a B.A. in Dance with concentrations in Choreography and Performance in June, 1999.
Professionally, Juan has performed with the Chicago Civic Ballet, the Chicago Lyric Opera, the Northwest Ballet Association, Mordine and Company Dance Theatre, Luna Negra Dance Theatre, and for six seasons directed his own dance company, Estradanza, until the company folded upon his move to NYC in 2006. Juan joined the Power Pilates Chicago team under the direction of Liv Berger and Linda Spriggs in 2005. Now as part of the Power Pilates NYC team, Juan has participated in various Power Pilates online classes both in English and Spanish.
---