This course demonstrates the correct way to facilitate Dynamic, Static and Proprio Neural Facilitation (PNF) stretching techniques with proper body alignment. Stretches are demonstrated for the following lower body groups: the hamstrings, quadriceps, calves, feet, abductors, Quadratus lumborum, lower back and abdominals. Each stretch uses different planes and angles to explore range of motion. The stretches can be progressed or regressed to suit clients' needs and fitness level. Anatomical terms and alignment principles are discussed and applied to achieve greater anatomical knowledge.

Instructor: Ginger Cox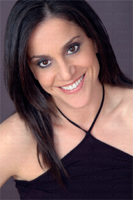 Ginger is on faculty at Broadway Dance Center as well as Pace University in New York City, and is the Artistic Director of LiNK! the Movement. She Holds a BFA in Dance, from Temple University and currently pursuing a Masters in Exercise Science and Rehabilitation.
Ginger has taught at The Joffrey Contemporary Program, the University of the Arts, Alvin Ailey Arts/Education Program, and internationally in Luxembourg, Paris, Switzerland, Germany, Mexico and Japan. Ginger has choreographed for NIKE SHOX, the NJ Nets Dancers, and was one of 10 chosen to present work in the Élan Awards, honoring Mr. Lar Lubavich. An athlete her entire life, Ginger has 20 years of dance training, technique and education. As a Group Fitness Instructor at Equinox Fitness, Ginger taught Body Strength, Weight Conditioning, Cardio Sculpt, Stretch, Dance Fitness. She has also been a Personal trainer to many individual clients. She continues her continuing education regularly and has taken the following studies: NASM Corrective Exercise Workshop; ACSM: Periodization, Nutrient Timing for the Athlete, Physiology of the Nervous System; PAMA: The Dancer as Artist and Athlete, Kinected Pilates Center: Core Anatomy, The Psoas; Exercise E.T.C Fitness: weight Training, building weight program, band training, boot camp, medicine ball, Angles of weight Training, Abs, Core, Legs, Trunk; Active Isolated Stretch with Michelle Assaf. Ginger is also proficient in boxing and has Completed 3 NYC marathons.
---