This workshop is a Power Pilates Continuing Education course where the Technique of the Mat exercises will be taught with inclusion of the use of 2-5lb dumbbells. Technique being; The Name, Setup, Action and Precision of each exercise. In this workshop time will be spent on the breakdown of each exercise to its most clear and concise form. With this clarity of Technique the teacher can safely add in the dumbbells to further challenge the client, all within a workout format. Additionally the usage of props to assist, enhance and challenge movement within each Mat exercise will also be explained for multiple levels. This material, once learned is to be taught to the strong Intermediate to the Advanced level client.

Instructor: Alison Laundrie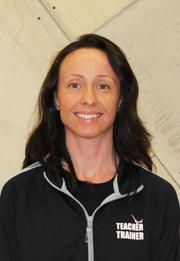 Alison Laundrie comes from a varied dance/movement background. As a teenager, she danced with the Wisconsin Ballet Theater where she was first exposed to the Pilates method. After receiving her BFA in dance from University of Wisconsin - Stevens Point, she freelanced in the theater arts world as a dancer, teacher, choreographer and actors' movement coach.
Alison received her Pilates certification from the Physical Mind Institute affiliate in Minneapolis, Minnesota, where by using the Pilates method, she worked with young athletes and spinal injury clients. Alison joined the Power Pilates team in 2001 and is also certified as a senior level Teacher Trainer for all of Power Pilates certification programs.
---