The Spine Corrector is that often-forgotten and hardly-ever-used piece of apparatus that spends most of its days sitting on the floor under the Cadillac. This mat-based workout takes the classical Spine Corrector exercises you know and love, and adds more creative exercises borrowing from the Reformer.

Instructor: Bonnie Grove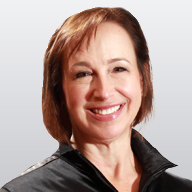 Bonnie began studying Pilates and yoga in 1999 while working part-time as a group fitness instructor in Frederick, Maryland. She was so intrigued by the unique approach of Pilates to the concept of exercise that she decided to pursue her Mat teacher training. Today, after completing over 600 hours of training and obtaining an advanced teacher training from Power Pilates, she works full-time teaching Pilates (mat and apparatus) to clients in both Maryland and Virginia. She also holds a yoga teacher certification from leading vinyasa teacher Shiva Rae.
---