YOUR BODY IS POWER, and we want to show you!!! This innovative and fundamental combination blends two very essential fitness disciplines to give you results on a whole new level! PLYOGA Fitness utilizes a 4 part system using plyometric intervals to accelerate your workout while simple yoga postures act as a transitional, active recovery. This program, complete with modifications, enables you to go one step further than you thought possible! PLYOGA Fitness will begin your journey towards a more agile, flexible, stronger, and balanced athlete. Experience a fitness system of incredible energy, insane exercise, and an amazing feeling of accomplishment! Ladies and Gentlemen, "EXCUSES HAVE LEFT THE BUILDING!"

Instructor: Stephanie Lauren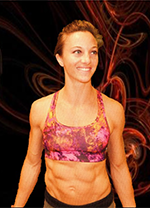 As a dedicated fitness entrepreneur, Stephanie Lauren has spent most of her life nourishing athleticism and health both personally and professionally through her athletes and clients.
Owner & Founder of PLYOGA Fitness
15 years of competitive Gymnastics from youth to collegiate level.
8 years of competitive Track & Field including current NCAA Division I and high school records
5 years coaching athletes (both gymnastics and track) and clients (through fitness)
Certified Personal Trainer
Group Exercise Instructor for Multiple Disciplines
Certified Fitness Machine!!
---